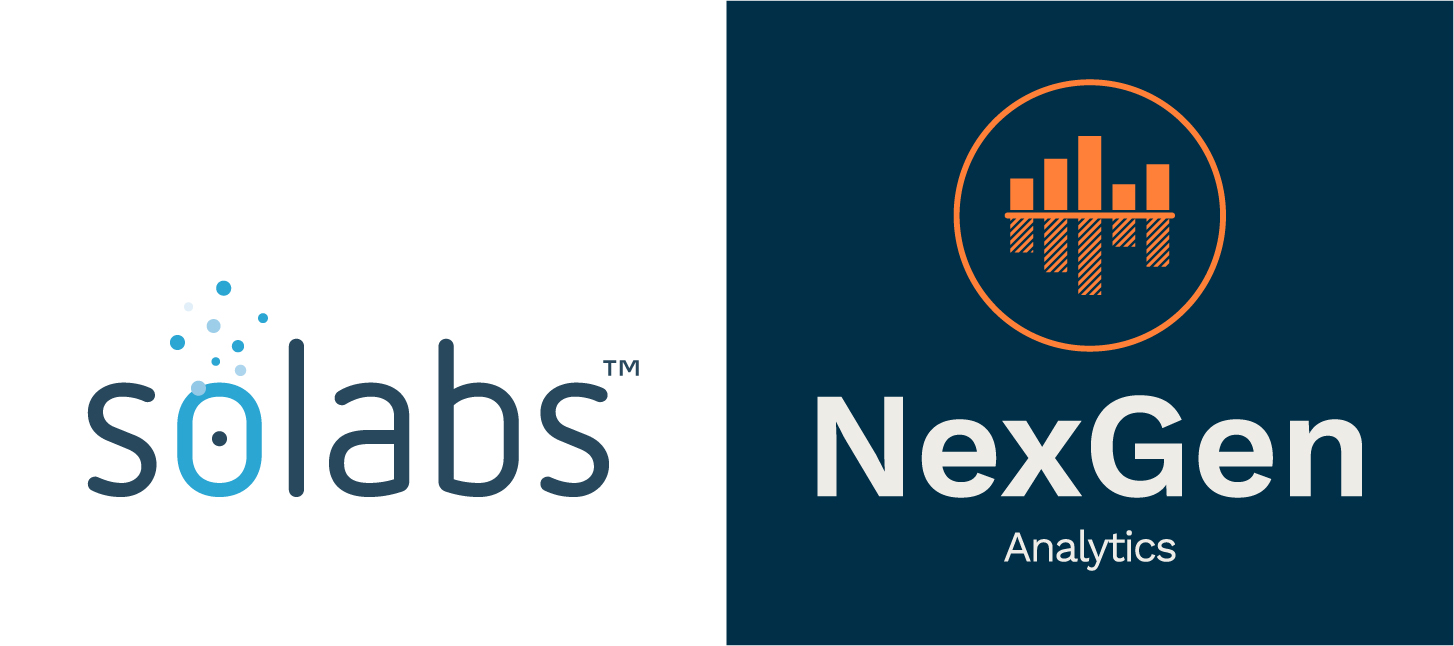 MONTREAL, QC, December 09, 2020 /24-7PressRelease/ -- SOLABS enters into a partnership with NexGen Analytics. This partnership provides SOLABS' Life Sciences clients with exciting capabilities in the areas of reporting and analytics.

"We are a product of teamwork, with our clients, our colleagues and our partners. We would not exist without our clients; we have a constant desire to provide the best service for them," says Philippe Gaudreau, CEO at SOLABS. "Our clients have expressed the need for a comprehensive reporting & analytics offering and we are proud to bring NexGen's expertise and experience to further improve customer success with our SOLABS QM10 EQMS."

"We are very excited to bring our expertise, tools and knowledge to SOLABS' Life Sciences clients. For over 15 years we have been developing tools, reports, analytics and dashboards for companies, divisions and departments in the areas of quality and operations. We understand the challenges faced by SOLABS' clients in areas such as reducing occurrences of events, improving visibility and control over suppliers, and augmented staff accountability to meet due dates and commitments," says Dave Villeneuve, President at NexGen Analytics.

This collaboration with NexGen Analytics will greatly enhance the SOLABS QM10 product and provide SOLABS' clients with improved reporting and analytics capabilities. NexGen and SOLABS are already collaborating on client initiatives to deliver solutions to streamline decision processes and provide more visibility in the area of CAPAs, Change Control, Training Management, etc. Full and complete packages resulting from this collaboration are expected to be made available in 2021 towards the end of the year.

About SOLABS: SOLABS' award winning EQMS (Enterprise Quality Management Software) allows mid-size Life Science organizations learn from experience, continuously improve and do more with less. SOLABS QM truly differentiates itself from other EQMS by a demonstrated ability to help clients efficiently close quality events and commitments of all kinds.

Visit www.solabs.com for detailed information on their EQMS offering.

About NexGen Analytics: Created as the software solutions arm of DRV Coaching & Consulting Inc., NexGen Analytics is a small niche player that creates innovative solutions utilizing VBA, SQL and Microsoft's extensive suite of tools to drive enterprise wide operating efficiencies. NexGen has primarily focused on the Life Sciences industry.

Dave Villeneuve, President NexGen Analytics
With 35+ years of experience, Dave holds an MBA and has held senior roles in IT, Operations and Engineering for mid-size and large Pharma Companies in Canada, including Apotex and Pharmascience. DRV Coaching & Consulting was formed 10 years ago to provide operational guidance and solutions to a variety of organizations.

Jamie Villeneuve, Head of Development NexGen Analytics
Jamie has a unique ability to talk with all levels of an organization and, with minimal input, translate their ideas into powerful software solutions. Jamie's expertise includes, but is not limited to, Data Modelling, VBA Development, Excel (Superuser), Access, MS Office, SSRS, Powershell, SQL Server, SAP Data interfaces and SQL scripting.

Any questions or requests for quotes related to NexGen can be channeled through SOLABS.

SOLABS' EQMS (Enterprise Quality Management Software) allows mid-size Life Science organizations learn from experience, continuously improve and do more with less.