CLIENTS
How to File a Request for Enhancement
Requests for enhancements or suggestions must be submitted to SOLABS through SOLABS' Knowledge Base. The Knowledge Base can be accessed at the following address:
https://docs.solabs.com/hc/en-us
It is not required to log in to the Knowledge Base to submit a request, but it is strongly recommended in order to be able to follow-up on it. It is possible to create an account by simply providing a username/password.
When SOLABS' Knowledge Base is accessed, whether logged in or not, there is a Submit a request option at the top of the site:

Click on the Submit a request
Enter your Email Address.
In the Subject field, enter: Enhancement Request
In the Description field, enter the following details:

Your Name
Your Company Name
The section/feature you want to submit an enhancement request for:
EX: Training Section / Grade End Users
Document Section / Approval of a document
Process Section / Summary Report
Describe the enhancement request in as much detail as possible.
You can also add a file as an Attachment to the request, to add clarification to the request.
Once you are done, you can then click Submit.
If the request is successfully submitted you will see a confirmation popup with the following message:

At the same time, you will receive an automatic email notification as such:

The number in parentheses is your request number. It will be used by SOLABS internally for tracking purposes and to allow you to follow up on your request, if you were logged in when it was submitted.
SOLABS will manage these requests internally and will send you an email notification such as the following when your request has been added to the list of enhancement requests.

If your request is not clear to the SOLABS Team, you may also receive another email asking for additional details.
Once your request has been added to our Enhancement Request List, the status of your request will be set to Open in the SOLABS' Knowledge Base.
How to Access your Requests in the SOLABS' Knowledge Base
Log into the SOLABS' Knowledge Base.
Once logged in, open the drop-down list from your Name and select My activities. The My requests list will then be displayed by default.


When you click on a request in the list you will see the details of the email exchanges and the request on the right side.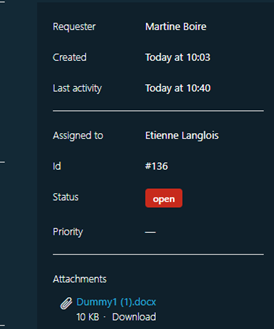 The request will remain in the 'Open' status until it is worked on and implemented in a specific QM10 release.
If, for some reason, it is decided that it will not be implemented, it will then be Closed.
In either case, you will receive an email notification:
When the request is selected to be worked on:
- a notification confirming the release in which your request is planned to be implemented (request still Open)
- a notification when the change is actually implemented, and in which release it is now be available (request Closed)
When it is decided that the enhancement requested will not be implemented:
- a notification explaining that the request will not be considered for a change and the reason why (request Closed).