The SSRS Document Inventory Report in the SharePoint Reports Portal is an excellent report for obtaining lists of documents by Document Type and can be filtered by various parameters. However, the documents in this report are listed in alphabetical order by default.
So how can you obtain a list of documents in order by Effective Date?
There are two ways to accomplish this, depending on the quantity of documents, the Effective Date ranges you are interested in.
Option 1:
In the DOCUMENT Section of SOLABS QM10, one of the available views is My Documents. There is a menu option in this section for Effective (last 90 days). This option will list the documents in Effective Date order but only those made effective in the last 90 days. If you need a larger list of documents, see Option 2 below.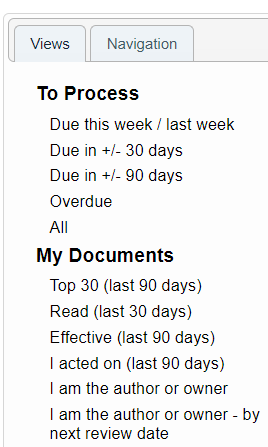 Option 2:
The Excel reports on the SharePoint Reports Portal includes a dataset named Document Metadata. Column J of this spreadsheet is documentEffectiveDate.

That column can be sorted in ascending order to get lists of documents in order from oldest to newest. It can be sorted in descending order to get lists of documents in order from newest to oldest. Using the filters available on other columns in the spreadsheet, such as Document Type, you can obtain lists specific to your needs.