This article provides some ideas for how to use videos or online training modules as part of the Training Activities you create and assign in SOLABS QM.
VIDEO FILES UNDER 50 MB
Shorter videos can be used in Training Activities in the same manner as documents such as SOPs. The Document Section in SOLABS QM can be used for all different file types, including videos!!
Use the Create Document option just as you would to create an SOP or other document file. In this case the Document File you will upload is a video file.
Just be sure it is

under the current maximum file size of 50 MB

and also that you change the Publishing Type to Publish in editable format (original).
Once the "document" is approved, you can link it to Training Activities just as you would a document file, including using it as a Curriculum Document so you can set it for Recurrence and reassign it if it is ever revised.
You can also use the Link Documents option to attach any video as a Related Item. In this case you may want to provide an instruction in the Description field of the Training Activity to instruct the trainee to open and view the video.
VIDEO FILES OVER 50 MB or LINKS TO EXTERNAL TRAINING MODULES
For video files over 50 MB or links to online training modules from an outside vendor you will need to use the URL instead of attaching the actual file.
Here are two ideas for this situation:
Using the Link Documents option to attach the URL as a Related Item:
As mentioned above, you can use the Link Documents option to attach any video as a Related Item. For videos greater than the current maximum file size of 50 MB however, you will need to attach a URL instead of the actual video file.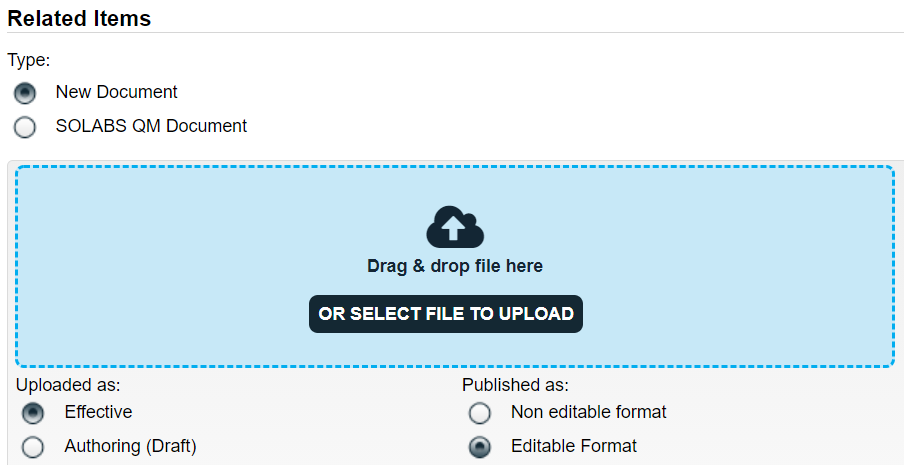 The easiest way to do that is to save the URL as a Shortcut on your desktop and then Drag & Drop/Upload that as your file.
Be sure to change the Published as: choice to Editable Format.
Imbedding the URL into an "Instructions Document":
This option can be handy when you also want to provide some brief instructions to the trainee on either the context for the video or possibly the login instructions if the URL is to the Login Page for an external training module website. Provide any instructions you may need including the URL to access the video or website Login Page.
In this case, even if you publish to PDF, the URL will be "live" when the trainee opens the document.
If you want to store this document in the SOLABS QM Document Section you can also link it as a Curriculum Document set for Recurrence based on document revision, just as you would an SOP or other training document.