The Document Control Process APP comes with SOLABS QM10 as part of the QM Essentials Package. It provides an electronic Document Change Request process that helps in the following ways:
Provides a way for users to request new documents, document revisions or the need to retire a document and obtain management/owner approval before the changes are actually made
Facilitates the document creation, revision or retire process for the Document Coordinator since Authoring versions will be created automatically and supporting reference documentation can be linked if needed
Automatically notifies the Training Coordinators when documents your users need to train on are approved
The following Document Type settings are used to ensure that the Document Control Process Step 2 (Owner-Manager Approval) and Step 4 (Training Assignment Confirmation) will be part of the workflow. If these are not checked off, those steps will be skipped.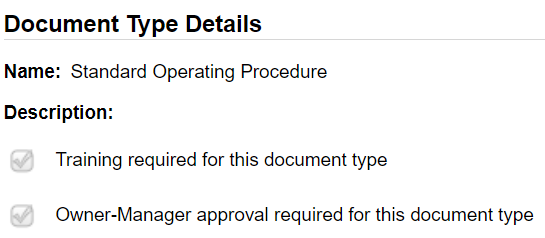 What if you are not using the Training Section of QM10 because your training is managed in another system? You might be tempted to never check the box for Training required for this document type.
Checking that box - which enables the Training Assignment Confirmation step in the Document Control Process - can help you automate notifications to your Training Coordinator, even if they will use that notification to create/assign training in another system!! Here's how!
When a document that requires training becomes approved, the Document Control Process workflow will move to Step 4 - Training Assignment Confirmation - and send an automatic email Notification to any users who you give the Process Role PR_DOC_TRAIN_COORD.
If you give that Process Role to the person at your company who is responsible for creating and assigning training - even in another system - they will be alerted to Act On Step 4.
When they choose to Act On this step, the following screen will be displayed. The default setting for Training Required will be "Yes". Since the training will not be created in QM10, changing it to "No" will bring up a mandatory Rationale field to enter information about where it will be created.
After they create and assign the training in the other system, they can access Step 4 again to Submit and Confirm. This will move the Document Control Process to Step 5 - Document Processing Completion.