To celebrate the release of SOLABS QM 10.5 in August 2017, we launched the
SOLABS Tree Campaign
. We make monthly donations to
One Tree Planted*
until a tree has been planted for every active SOLABS QM user. In addition, every time we add a new SOLABS QM user, or we meet someone that is a good fit to become a user, we'll send them a letter notifying them that we've planted a tree for them.
Tree Planting Locations We Support
Trees planted in British Columbia, Canada - Corporate Giving
British Columbia
Trees will be planted in Boulder Creek in collaboration with the BC provincial government's 'Forest for Tomorrow' and 'Forest Carbon' initiatives programs. This important wilderness area is 2 hours drive north of Whistler, BC known as a grizzly bear sanctuary and for its natural hot Springs.
Tree Planting in SoCal, United States - Corporate Responsability
California
California's forests provide innumerable benefits, including clean water and air, recreation, timber, habitat, and beautiful scenery. Healthy forests also play an important role in addressing climate change. Five years of drought and a large-scale bark beetle infestation have seriously damaged California's forests. 2017's record-breaking wildfire season burned more than 1.3 million acres – an area the size of Delaware. Now, a record 129 million trees need to be restored in California.
Environmental philanthropy, plant trees in Colorado, USA
Colorado
Colorado has 24.4 million acres of forests which provide huge social, economic and ecological benefits. Forests support a sustainable wood products industry, diverse wildlife, fresh water, and ample recreation opportunities. But these precious forests face serious threats, including insect infestations, long-term drought, and forest fires. Unhealthy forests set the stage for exceptionally large, devastating wildfires that significantly increase risks of dangerous flooding, extreme erosion, degraded water quality and reduced water storage capacity.
Reduce C02, environmental responsibility in Oregon, US
Oregon
A new analysis says forests are shrinking on state and private land in Western Oregon, where an estimated 522,000 acres of forest cover have disappeared since 2000. That's an area six times larger than the city of Portland, equal to more than half of Oregon's designated state forests.
Florida, US
Florida
Florida is home to 37 state forests, covering over 1,070,000 acres. Yet in recent years, unhealthy forests have been major contributors to Florida's disastrous wildfires and unprecedented outbreaks of southern pine beetles. The region is frequently hit by strong storms and hurricanes, contributing severe, long-term damage to forest resources.
Quebec, CA
Quebec
The majority of forest coverage in Québec comes from the Boreal forest – the world's largest intact forest ecosystem – making Québec forests some of the most ecologically rich ecosystems on the planet. They are home to more than 225 species of bird, 50 species of tree, and 60 mammal species including moose, black bear, fox, and caribou. SOLABS' support help in restoring and expanding Québec's forests, protecting them against urban sprawl and insect infestations.
Trees Planted to Date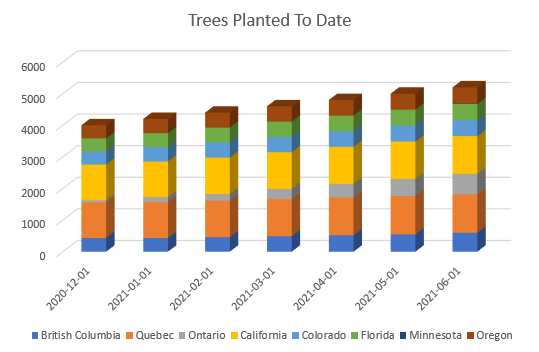 To date SOLABS has purchased for planting 5202 trees:
600 in British Columbia
1190 in California
505 in Colorado
515 in Florida
515 in Oregon
1215 in Quebec
652 in Ontario