Can MS Word documents using fillable forms be converted to editable PDF forms through SOLABS QM10?
SOLABS QM10 does not support the conversion of a MS Word "fillable forms" to PDF "fillable forms".
If you choose to convert a Word document to a PDF file within the software, "fillable forms" will become non-editable in PDF.
What you can do is upload "protected" forms in MS Word and choose the Publish in editable format (original) option during the authoring process in SOLABS QM. This will allow users to modify only the selected section in your document.
Click on the image below for a complete guide on how to perform this operation.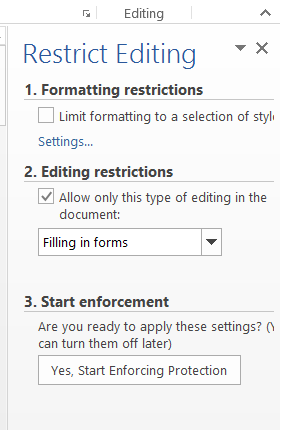 What about PDF documents with fillable fields?
If a PDF document with fillable fields is uploaded to SOLABS QM10 during the authoring process, and the Publish in editable format (original) option is chosen during that process, the fillable fields will remain as is and will still be fillable.