Currently, the metadata of a superseded version can only be seen when accessing the version from the document's audit trail.
To do so, access the document as usual, and then click on "Audit Trail" under the "Related Information" menu section on the right end of the screen: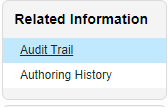 From there, locate the desired superseded version in the audit trail table, and expand it to see its metadata.
Note that you can also use the "Print" link related to this version to print the audit trail entry in PDF by selecting "Save as PDF" as the Printer option on the print screen (or you can print it on paper, but only if you really need it!).