EXISTING CLIENTS: (If you have a SOLABS QM10 account):
You must use your SOLABS QM10 credentials (same username and password) to log in to the EROOM.
If your SOLABS QM instance is set up with Single Sign-On (Azure AD Premium or OneLogin SSO):
You will need to access the EROOM in a Web Browser with the URL: https://my.solabs.com/eroom/
If your SOLABS QM instance is not set up with SSO:
Click the EROOM link displayed at the top of the SOLABS QM10 instance, per the image below:

EROOM Login Portal: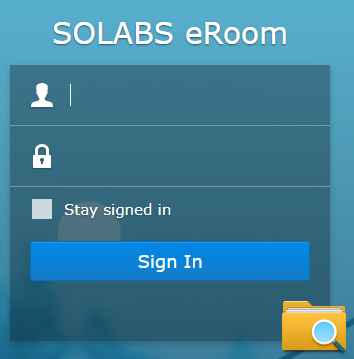 If you experience an issue when trying to access the EROOM, please contact support@solabs.com
____________________________________________________________________________
NEW CLIENTS (you are not yet live with QM1010)
Please contact your SOLABS Project Manager.
What is the SOLABS EROOM?
The SOLABS EROOM is a private web portal used to share Release notes, Validation documentation, and Project documentation with clients. Information is segregated into 2 categories of folders:
Public folder (available to all clients):
Contains all of the Release Notes and Validation documentation for all versions of the SOLABS QM10 Essentials.
Client folder (private for each client):
Contains client-specific Project documentation, Validation, and Configuration documentation.