Microsoft implemented a new security in Microsoft Office name Mark of the Web (MOTW).   This feature essentially detects if it should permit the execution of macros for Office documents that are downloaded from the internet.  
Microsoft's reference: https://learn.microsoft.com/en-us/deployoffice/security/internet-macros-blocked 
The error
When trying to open an Office document with macro(s) from your computer, you receive the following error:   Cannot run the macro "<macro name>".  The macro may not be available in this workbook, or all macros may be disabled.
Workaround
You can quickly correct the issue for your file by:
Right-click on your file in Windows Explorer.
Select Properties.
At the bottom of the properties window, untick Unblock.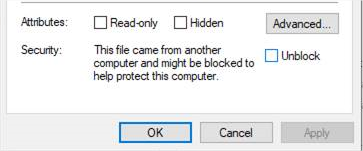 Click on OK.
Permanent solution
In order to ensure that any Office files downloaded from QM10 aren't affected, please do the following:
Open the Control panel.
Click Internet Options.
Click the Security tab.
Click the Local Intranet icon

Click the Advanced button.
Then type in your QM10 instance's URL (Ex.: https://aclientname.solabs.com/qm).
Click Add.
Click Close.

Click on OK.
Ensure the security level is set to the default: medium-low.
Click OK.