You can automatically receive preconfigured executed SSRS reports by email at the time of your choosing and at in the format of your choosing. This is what we call a report subscription.
The following steps will describe how to configure such subscription in your SOLABS QM Report Portal (SharePoint):
SOLABS recommends using a dedicated user to create the subscriptions, has subscriptions deactivates themselves if the user that created them is deactivated in QM10.
If you have not been provided with a dedicated user, please contact support at: support@solabs.com .
Connect to the SOLABS QM Report Portal with a user having Full Control in SharePoint.
Once connected, navigate to the report you would like to create a subscription of.
Click on the icon on the right side of your report.
Click again on the icon.
The select Manage Subscriptions.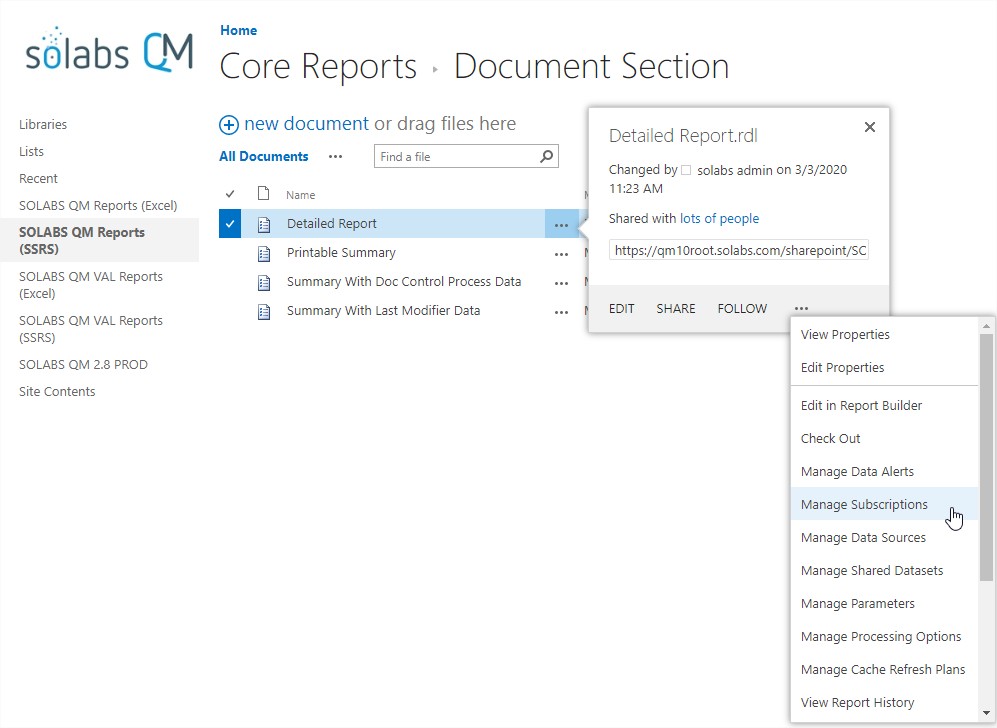 Click the Add Subscription button.
Configure the following parameters:

Delivery Extension = E-mail
Delivery options:

To = coma separated list of e-mail to which you would like to send the report to.
Cc = coma separated list of e-mail to which you would like to carbon copy the report to.
Bcc = coma separated list of e-mail to which you would like to blind carbon copy the report to.
Reply To = specify an e-mail address to be used by users to reply to the notification e-mail.
Priority = Select the priority level this e-mail should have.
Comment = Specify a comment to be written in e-mail.
Include a link of the report = tick if you want a link to the report in the e-mail.
Show report inside message = tick if you want the report to be attached to the e-mail.

Format = Choose the desired report format (Excel, Word 2003, MHTML, TIFF, XML, Data Feed, Excel 2003, RPL Renderer, CSV, PDF, HTML 4.0, Word)

Delivery event:

When a report snapshot is taken
On shared schedule
On a custom schedule (Recommended)

Click on Configure
Frequency = Select desired frequency (Hour, Day, Week, Month, Once).
Schedule = Define the desired schedule.
Start and End Dates = Minimally specify the Start date.
Click on OK.

Parameters = Parameter represents the report parameters. Therefore, they change from report to report. They enable you to present any parameter to you liking. The report output will be generated from the parameter configuration.
Click on OK.
Voilà! You have now built a subscription tailored to your needs!
If you need to edit or delete an existing subscription follow the same instructions above to get to Manage Subscriptions. All of your current subscriptions will be listed. To edit or delete one, select it from the list. Click on the E-Mail option under the Delivery Extension column to bring up the subscription settings and make any edits that may be needed. Click on the X Delete option if you would like to delete a subscription.