The SOLABS QM10 Login Page is directly connected with the Password Management service to facilitate the user experience in user setting their initial passwords and any End-User Self-Service options such as changing a password or retrieving a forgotten password.
Users can also access the Password Management service directly here: https://my.solabs.com where they will be allowed to change or reset their password by following the on-screen instructions.
*There is currently no indication in the SOLABS QM10 login page that an account is locked (for security reasons). When a user has tried many times to log in to SOLABS QM without success, it is best that they first contact their SOLABS System Administrator to confirm that their account is not locked (or to unlock it if it was) prior to proceeding with their password reset and trying to access SOLABS QM10 again.
For more information specific to the Password Self-Service for SOLABS Identity Users, please refer to this linked User Guide.
Table of Contents: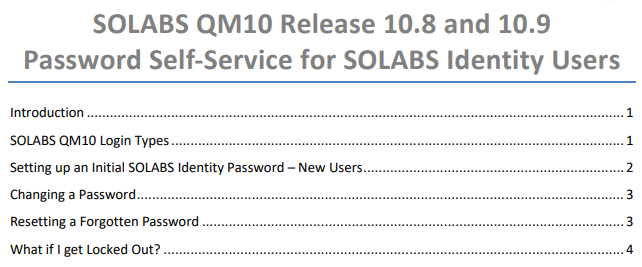 Related Articles:
https://docs.solabs.com/hc/en-us/articles/1500007002061-When-do-User-Passwords-Expire-and-Why-
https://docs.solabs.com/hc/en-us/articles/1500007002182-Can-I-Remove-Some-of-the-Security-Questions-New-Users-are-Required-to-Answer-When-Logging-Into-Their-Account-