What is Single Sign-On?
Simple definition:
SSO is your one click access to multiple applications using one set of login credentials. Applications maybe located internally in your enterprise or hosted in the cloud. Application access is generally made through an application portal.
Which SSO solutions do we support?
SOLABS QM has the ability to leverage the functionalities of the following external Single Sign-On (SSO) solutions: Microsoft Azure, Onelogin and Okta.
How does the SOLABS External SSO connector works?
Like in any SSO solution, the External SSO connectors have two distinct parts: the SAML connector and the SSO connector.
SAML Connector
The SAML connector is the part of the solution that is responsible for the seamless transitions from the application dashboard or portal to SOLABS QM. This is where the magic is seen by the end user! It will automatically send the credentials from to SOLABS QM and redirect the end user directly in the application without him having to type in is username and password.
SSO Connector
The connector is used to authenticate to an external SSO user directory. It acts like the traditional authentication methodology: the end user needs to enter is username and password to either get acess to the system or in 99.9% of the time in SOLABS QM, to perform an e-signature.
Limitation
Currently SOLABS QM has many authentication types, but once this authentication type is activated in the system, all other types become unavailable.
Schema of authentication sequences
Authentication sequence over SAML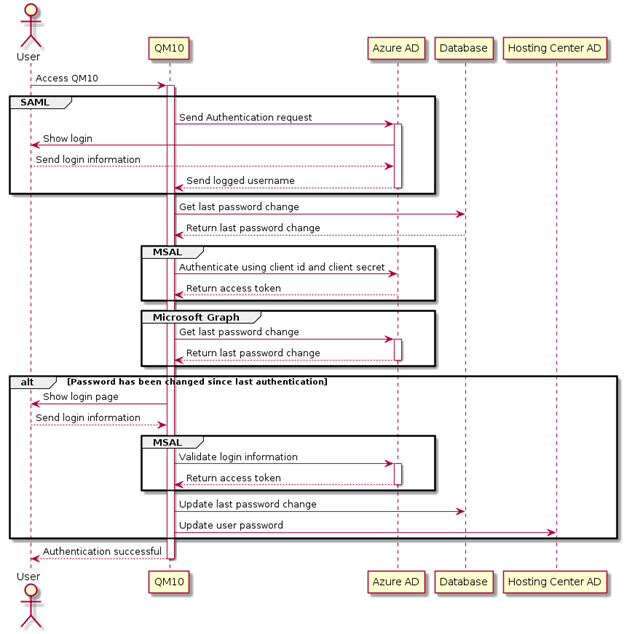 Authentication sequence using the SSO connector