By linking Training Activities to Function Roles using the Add Activity to Profile menu option, you are able to define training requirements for those functions.
Filtering by those Function Roles when using the Assign by End User option then assigns those Training Activities to the users with those Function Roles. Training Reports can measure compliance against those requirements.
Function Roles are created for employee Job Titles and therefore linking Training Activities to those Function Roles defines the training requirements for those Job Titles.
What if you have training requirements shared by people in multiple Job Titles?? These might be such things as:
New Employee Orientation training requirements - shared by everyone at the site, no matter what their Job Title
Group or Team training requirements such as a Safety Committee, a Project Team, a Supervisory Training Program or Departmental Training - shared by everyone on the committee, team, group or department, no matter what their Job Title
What if you have training requirements needed by some people in a particular Job Title but not all people in that Job Title?? These might be such things as:
Training for a Production Line that some Production Operators use but not all them
Training on laboratory equipment that some Chemists will need but not all of them
Training on system administration performed by some QA Specialists but not all of them
As mentioned in other articles and User Guides, users in QM10 can be assigned multiple Function Roles. Therefore, you can create Function Roles for all of your specific training needs, link the related Training Activities and assign them accordingly. This helps Training Administrators easily identify training needs across your organization and target the assignments appropriately. It also helps all employees know the purpose for each of the Training Activities assigned to them.
Examples:
Do you have a group of SOPs and other classes that are required for onboarding of new personnel?

Create a Function Role for Employee Onboarding. Link all the related Training Activities to that role and give it to every employee.
If you possibly want new employees to complete that training first, simply assign that Function Role ahead of any other Function Roles.

Will employees need training on some functions before others? How do you manage this? How do they know the difference?

You could assign Function Roles in order of need to manage this.
If you want to assign training for ALL Function Roles up front - so that you don't forget to assign some of them - remind the employees that using the Training Status >Details option will help them see what training assignments are related to what training need. Each Function Role assignment will be listed in the Details section. To see the training requirements for each one, they can click on the "Open" option next to each.
In the example below, this employee's Job Title is Supervisor of Quality Control. There are Training Activities linked to that role but she also has required training for Employee Orientation, the Quality Department, the Quality Control Sub-Department and a particular Project Team. She can easily identify the purpose for each of her assignments and complete it in the order her manager may prefer.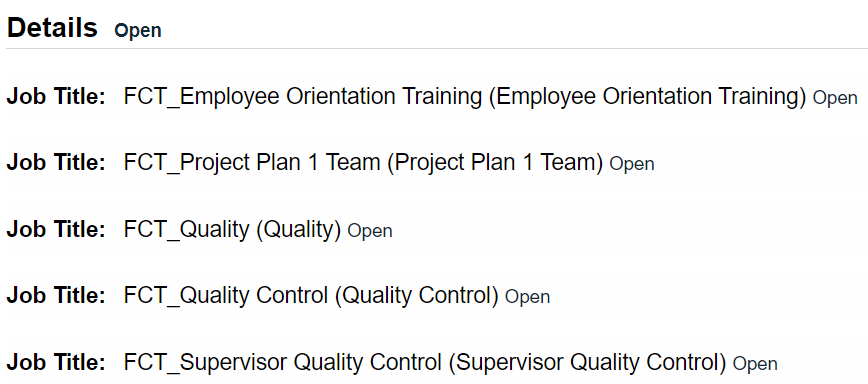 Related Articles:
https://docs.solabs.com/hc/en-us/articles/360053447834-What-is-a-Curriculum-in-the-SOLABS-QM10-Training-Section-
https://docs.solabs.com/hc/en-us/articles/360055363233-Assignment-of-Training-Activities
https://docs.solabs.com/hc/en-us/articles/1500001306161-How-to-Find-Training-Activities-that-are-Linked-to-Function-Roles-but-Not-Yet-Assigned-to-Those-Users
https://docs.solabs.com/hc/en-us/articles/4412418584855-Removing-a-Training-Assignment